~Tails is a young fox cub and one of the main protagonists of The Crown Jewel Caper.~
Full Name: Miles "Tails" Bernard Prower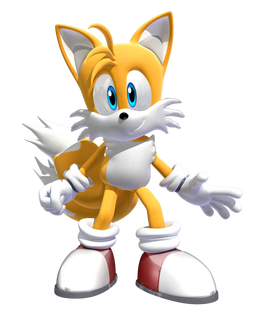 Nickname(s): Tails
Birthday: January 1, 2007
Age: 10
Gender: Male
Hair Color: Orange and white
Eye Color: Blue
Skin Color: Peach
Residence: 555 Sycamore Avenue
Relationships: Top Cat, Benny, Choo-Choo, Spook, Fancy-Fancy, Brain, Edgar, Brains, and Spud The Scarecrow (all friends), Cream The Rabbit (girlfriend), Rosemary Prower (mother), Amadeus Prower (father), Merlin Prower (uncle)
Occupation(s): None
Favorite Food(s): Fried chicken, pizza, beef burritos
Least Favorite Food(s): Sushi, tuna, sardines
Likes: Adventures, Cream, helping Brains with his inventions as well as designing and building his own, LEGOs, flying, hanging out at the LEGO Store with Brains
Dislikes: Seeing Cream in danger, whenever his inventions fail.
Known Prized Possession(s): A giant tub of LEGOs
Appearance
Edit
Casual Outfit: Red shoes with white stripes, white gloves, Chicago Cubs baseball cap
Pajamas: Red tartan slippers with white fur lining, green boxer shorts with a yellow Hawaiian flower style, lounge pants in the same design
Summer Outfit: Red flip-flops, the same cap
Winter Outfit: Red snow boots and a white ushanka
He looks up to Brains like a big brother and likes to help him with his inventions
He also likes to design and build his own inventions.
Even though he wears his favorite red slippers at nighttime, he either sleeps in his socks or, in the warmer months, he sleeps barefoot.
He has a major crush on Cream
He is an avid LEGO fan and has been collected LEGO sets ever since he was 7 years old.
Because his biological mother and father were born and raised in Illinois, he is a fan of the Chicago Bears and the Chicago Cubs football (Bears) and baseball (Cubs) teams.
He and Brains often hang out at The LEGO Store whenever they find time for it.