~Stepney is a supporting protagonist for The Railroad Girl.~
Full Name: Stepney The Bluebell Engine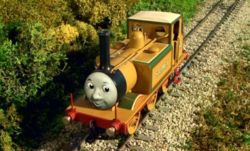 Also Known As: Goldenrod, DJ STEAMR
Species: Steam Engine
Gender: Male
Age: 13
Relatives: William Stroudley (designer), Brighton Works (builder)
Hair Color: N/A
Eye Color: Black
Skin Color: Grey
Appearance
Edit
Stepney is a goldenrod tank engine with goldenrod paint with red and green lining, his name on both sides of his boiler, the number "55" on both sides of his coal bunker, and red side-rods.
Stepney is an aspiring DJ, and is often hired to play music at parties.
When he's DJing, he uses a Roland DJ-808 controller hooked up to a Crosley T100A turntable system as well as an Apple MacBook Pro that he uses to stream music from Pandora.
Also when DJing, he refers to himself as DJ STEAMR, alluding to the fact that he's a steam locomotive.
He mainly uses his turntable as a backup in case the venue has no internet access.
He is the only engine in Winter City with a different colored set of side-rods.
Apart from being a DJ, he is a very bubbly, honest, and humble engine who is bustling with enthusiasm, and is always ready to work.
He also has a compassionate and sympathetic side for whenever another engine is feeling down in the dumps.