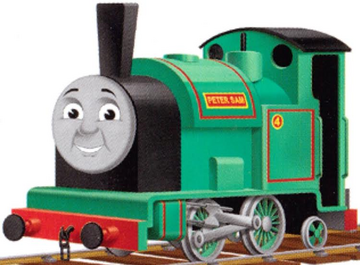 Peter Sam is one of the main protagonists of The Railroad Girl.
Full Name: N/A
Also Known As: P.S., The Art Lover
Species: Narrow Gauge Steam Engine
Gender: Male ♂
Age: 10
Relatives: Kerr Stuart (designer and builder), Millie (girlfriend)
Hair Color: None
Eye Color: Black
Skin Color: Grey
Appearance
Edit
Peter Sam is a dark green narrow gauge saddle-tank engine with dark green paint with red and gold lining, his name on both sides of his tank, and the number "4" on both sides of his coal bunker.
Peter Sam used to be named Stuart after his builder, Kerr Stuart, but when he arrived in Winter City, he was renamed Peter Sam after the late Mayor Peter Sam
Peter Sam used to have a regular funnel, but after an accident he had with some slate cars, his funnel was severely cracked, so he was given a special funnel as a replacement
Peter Sam is fond of art and is often seen watching "The Joy Of Painting With Bob Ross" on TV
He is also a very skilled artist and owns and runs his very own art studio next to the Winter City Diesel where he makes beautiful paintings, drawings, etchings, and sculptures
How did he become an artist, you might ask? Well, dear friends, and answer to that is simple:

In the days he was called "Stuart", he would often take a pad of paper with him and sketch the scenery around him on his regular scenic routes in his spare time, and he would keep his drawings in a manila folder. One day, the previous owner of the railway, Mr. Ivo Hugh, found the manila folder and became impressed by how detailed the drawings were when he looked at them. In fact, he was so impressed that when he went to the shops the next day, he bought Peter Sam a set of acrylic paints, an easel, a palette with some included palette knives, a can of odorless paint thinner, a set of brushes, and a set of canvases, and when he presented these to Peter Sam, Peter Sam started spending most of his spare time painting portraits of both engines and people that he would then sell on the streets or hang them up on the walls. Eventually, people liked his work so much that the City Council gifted him with the funds to set up his own studio.