Lilly Hedgehog is a supporting protagonist for The David Cassidy Elementary Kids.
Full Name: Lillian "Lilly" Jane Hedgehog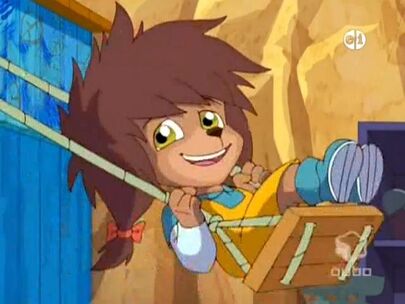 Also Known As: Sweetie, Lil' Sis
Species: Hedgehog
Gender: Female
Birthday: March 22, 2012
Age: 6
Relatives: Keith Hedgehog (father), Sonya Hedgehog (mother), Alfred Hedgehog (older brother)
Hair Color: Dark Brown
Eye Color: Green
Skin Color: 2 shades of brown
Appearance
Edit
Lilly always wears 2 red bows in her hair kept in pigtails, a sea teal t-shirt with a folded neck, a long sleeved white shirt, a sleeveless yellow dress, and a pair of blue rain boot-shoes
Lilly shares her birthday with Australian children's television presenter, singer-songwriter, guitarist and musician Don Spencer, who had a long-running role on the children's television program Play School on both the Australian and United Kingdom versions.
On Sundays, she attends the same Sunday School her big brother's friend Nathan Adams' mother runs.
She sometimes listens to or sings songs by Australian children's band The Wiggles to help herself calm down when she gets scared.