~Edgar is Top Cat's butler and one of the main protagonists of The Crown Jewel Caper.~
Full Name: Edgar Jean-Eric Detoit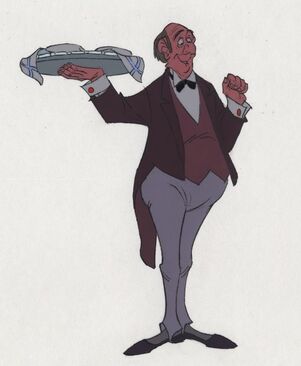 Nickname(s): Ed, Eddie
Birthday: February 22, 1959
Age: 57
Gender: Male
Hair Color: Brown (graying)
Eye Color: Black
Skin Color: Fair
Residence: A fine house in Paris, France (formerly), Top Cat's mansion on 555 Sycamore Avenue (currently)
Relationships: Unnamed parents (both of whom are still alive), Top Cat (employer, friend), Benny the Ball, Spook, Fancy-Fancy, Brain, Choo-Choo, Tails, Cream, Brains, and Spud The Scarecrow (all friends)
Occupation(s): Butler, chauffeur
Likes: Making soup, his job, helping his boss.
Dislikes: His soup being burnt, anything bad happening to him, his boss, or any of his friends
Favorite Food(s): His soup, French-fried potatoes, Caesar salad, whatever his boss likes
Least Favorite Food(s): Whatever his boss doesn't like.
Known Prized Possession(s): A LEGO model of The Eiffel Tower he made.
Hobbies: Mini golf, making soup, reading
Appearance
Edit
Working outfit: A 2-toned brown suit, gray pants, black shoes.
Casual Outfit: A dark blue cardigan sweater over a white polo t-shirt, khaki pants, blue Aspen boots
His soup is enjoyed by many people, including his friends.
He often panics when he receives a distressing phone call, but manages to pull himself together and inform Top Cat.
His favorite kind of soup is carrot topped with parsley.
Despite being the driver of Top Cat's 1930 Rolls Royce, he also owns a motorcycle.
He shares his birthday with George Washington, the 1st President of the United States.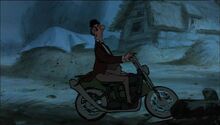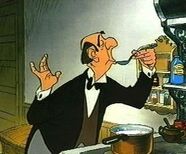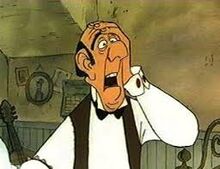 Community content is available under
CC-BY-SA
unless otherwise noted.