Alfred Hedgehog is one of the main protagonists of The David Cassidy Elementary Kids.
Full Name: Alfred Quincy Hedgehog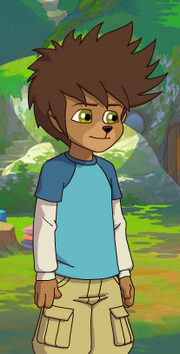 Also Known As: Alf
Species: Hedgehog
Gender: Male
Birthday: June 28, 2007
Age: 11
Relatives: Keith Hedgehog (father), Sonya Hedgehog (mother), Lilly Hedgehog (younger sister), CJ Brown (best friend), Russell Clay (best friend), Arnold Shortman (best friend), Nathan Adams (best friend)
Hair Color: Dark Brown
Eye Color: Green
Skin Color: Two shades of brown
Appearance
Edit
Alfred always wears a two-toned blue t-shirt over a white long-sleeve shirt, beige bermudas, and blue and white tennis shoes.
Alfred shares his birthday with American actor, writer, producer, director, comedian, and composer Mel Brooks, best known as a creator of broad film farces and comic parodies such as Blazing Saddles, Spaceballs, Young Frankenstein, and Robin Hood: Men In Tights.
He loves his little sister very much and will do anything for her.
He is a big mystery fan, specifically novels in series like The Hardy Boys, The Adirondack Kids, and Sherlock Holmes.
He has dreams of becoming a professional private investigator.